Do you teach Kindergarten? Will you be teaching Kindergarten this year? There are some great K teachers sharing their tips over at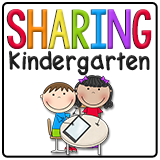 With 13 years experience teaching Kinder I have some tips for you all too!

I feel like this one is my most valuable tip! When the first day of school comes around some of your students might be in school for the very first time. From the first step into your room it is all new to them. For the first 2 weeks
(sometimes more/less) I go over EVERYTHING! From how to sit on a chair, how to walk to the carpet, how to listen during story time etc… We have posters that show how our rules plus pictures and charts that have my expectations. Once our rules are known and my students know my expectations my classroom runs pretty smoothly. Other teachers have commented to me on how well my students work and are amazed they can do that. I tell them it's all about those first few weeks of school!

Which leads me to my 2nd tip. Model, model, model!!! Your students needs to see how things must be done. From how to hold a pencil the correct way, how to walk with a pair of scissors, and like I said before even how to sit correctly. If you put the time in at the beginning to show them your expectations your classroom will function and flow so much better. As the year goes on I always have picture clues as directions for my students to refer back to. It has helped( a little) with those millions of questions about what I am supposed to do next 😉

SHOES!! I think this is another one of those tips that no one really talks about. As a K teacher you are moving around ALL DAY long! You want to invest in some very comfortable shoes. Now, I know we all like to dress cute but, when you are a K teacher comfort over rules the cuteness. At my school we have to wear a uniform( yes even the teachers) with black shoes. This past year I found black sketchers air walk sneakers and they are the MOST comfortable shoes I have even worn! My feet do not hurt at the end of the day! Check them out. You will NOT be sorry. 🙂

When you teach you are surrounded by 20 something students who ALL have all sorts of germs. My very first principal told us at training no matter what take a multi vitamin EVERY day. Your immune system is not ready to take on all the extra germs that are all around. Especially if you are just starting out in the teaching world. You WILL get sick this year.


It is also just as important to get LOTS of rest! The first few weeks of school are EXHAUSTING!!! You will come home and just want to crawl into bed. That is OK! Listen to your body and if it needs sleep, then sleep! Come October you and your classroom will be a much better place!



Do you have any tips or suggestions for a K teacher? Head on over to
Sharing Kindergarten to check out some other great tips from K teachers.